SuperPro Front Radius Arm Bushing Kit 1.0 for Range Rover Classic 03/1987-08/92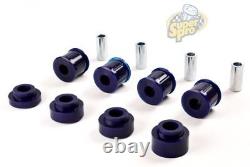 SuperPro offers the widest range of suspension upgrade components including poly bushes, suspension bushes, anti-roll bar bushes, anti-roll bars, anti-roll bar links, radius rods, control arm, panhard rods, shock absorber bushings and so much more. Our experience has shown that modern vehicles today do not have provision for wheel alignment correction and as the vehicle's suspension softens with age, they begin to wander or steer off in one direction. Replacing with SuperPro bushings and parts rectifies this by removing excess compliance in the suspension system without affecting NVH (Noise, Vibration and Harshness).
Products are constantly tested and re-engineered on our own vehicle fleet, customer's vehicles in the UK, Europe and around the world, as well as a conducting a continuous program of cyclic testing on specifically-designed test equipment. With our extensive range of superior quality bushes, we don't just sell Polyurethane Suspension Bushes; we provide complete solutions to suspension and steering problems. Benefits include: Better road-holding Constant steering geometry Increased tyre life More responsive steering Longer service life of suspension components No increase in NVH (Except Where Stated). SUPERPRO BUSH KIT TO FIT. Range Rover Classic Type: Year(s): 03/1987 to 08/1992 Description: Front Radius Arm Bushing Kit with Standard Castor and 1.0 Degree Axle Adjustment Superpro Part Number: KIT5292BK Kit Consists of: SPF0195K and SPF2718K I. One car set - See picture (where available) Notes.
Any costs incurred relating to wrongly ordered items will be customers responsibility. We are suppliers of mainly non-standard items. This means that, by their very nature, the parts we supply may not be a straight forward DIY fit. In some cases, modifications or adaptations may be required to achieve an acceptable fit.
We therefore recommend that parts we supply should be fitted by a qualified mechanic. Please "Don't" book your car into a garage before your goods arrive, we will not be held accountable for any financial losses. Drop links / Stabiliser bars.

---