Powerflex Bump Stop Lowered 40mm for Range Rover Classic (198695) PF32-130-40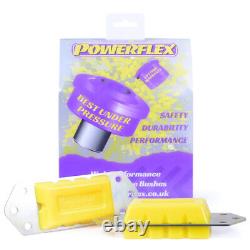 Powerflex Bump Stop Lowered - 40mm for Range Rover Classic (1986>95) PF32-130-40. Powerflex Bump Stop Lowered - 40mm To suit the following model(s): Range Rover Classic (1986 > 95) Powerflex Part Number = PF32-130-40 This part is 40mm in height; designed to fit vehicles with lowered suspension.
For standard height and extended versions, please use PF32-130-60 and PF32-130-80 respectively. Bush Size = 40mm Quantity Included in this Price = 4 Powerflex Diagram Reference = 30 Suspension bushes are some of the most highly stressed components fitted to a car. The rubber compound they are made from becomes softer and more pliable over time, therefore resisting the forces placed on it less and less.
This is the single biggest reason you can instantly tell the difference when driving a three year old car compared to a showroom new one. This is where Powerflex Polyurethane bushes make a world of difference! They do not perish like rubber bushes. Plus Powerflex have engineered their polyurethane compound to make their bushes 25-30% stiffer than new rubber bushes, but with exactly the same noise absorbing properties.
They deliver improved performance, increased safety and prolonged tyre life. Since then we have grown to become one of the largest Performance and Styling Centres in the UK, with a huge and ever increasing website, and exporting to every corner of the globe. However, our commitment to service and value has never changed. We have enjoyed such prolonged success because we deliver excellent customer service - day in, day out. Our staff are the most knowledgeable and experienced in the UK.
Quotes will therefore always be for an insured courier, or tracked post, depending on the weight and value of the item. For items that are being sent within the UK via 2nd class post, please allow 3-5 days from the date of dispatch before contacting us. We will have entered an approximate dispatch time on each listing.
You have 14 days from the date of receipt in which to return your item.

---