AIR FILTER LAND ROVER RANGE ROVER I (Classic) 2.4 TD 1988 1989 1990 1991 BMC 121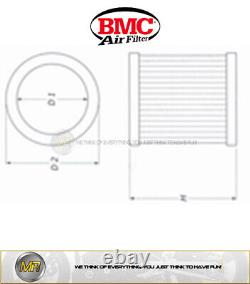 MOTORACING2000 - The online shop where to find the best products from the leading brands at competitive prices. L'utilizzo del Marchio e Modelo del veicolo in questa inserzione è unicamente a scopo descrittivo della destinazione del prodotto proposto in questa vendita secondo l' Art. 21 del codice della proprietà Industriale. 21 of the Code of Industrial Property.
BMC SPORTING AND TUNING AIR FILTER, WASHABLE AND SUBSTITUTE TO THE ORIGINAL - PLUG AND PLAY WITH ORIGINAL AIR FILTER BOX. BMC air filters, replacing the original ones, increase the capacity of the incoming air flow with obvious benefits in the quality of combustion, increasing the POWER of the engine.
The cotton sports air filter is fitted into the airbox to replace the original air filter. It is produced with high-performance materials that allow an increase in the air flow to the engine compared to the original paper or sponge air filter, while guaranteeing superior filtration efficiency: thanks to the combination of the different oiled layers, the containment of all impurities are guaranteed down to a minimum of 7 microns (international standard certified for ISO5011 filtration), while OEM paper filters typically require total filtration of particles down to a minimum of 10 microns.
BMC cotton sports air filters are made with a process called "Full Molding" which allows you to obtain the characteristic red filter from a single mold without requiring gluing in the corners, which can easily break. The particular rubber used in BMC filtration systems is practically non-deformable over time and has excellent adhesion characteristics to any form of airbox. BMC air filters are made of a multi-layered cotton fabric soaked in low viscosity oil, sandwiched between two aluminum cross-linked structures. The aluminum nets are treated with epoxy resin to protect them from oxidation caused by fuel vapors and humidity present in the air. LAND ROVER RANGE ROVER I (Classic) 2.4 TD (1988 1989 1990 1991).
What do you receive by purchasing. 1 BMC SPORT AIR FILTER. Our company is a benchmark for the sale of replacement parts and accessories for 2 and 4 wheels.
We offer utmost professionalism and availability. In case of delay you will be contacted for verification order.
British Islands - 15,00. Spanish and Greek Islands / Andorra / Ceuta / Melilla / Canary / Gibraltar - 15,00. Item must be sent to Italian address and the same period at your expense.
Transit times may vary, particularly during the holidays.

---